Dave Cortese was first elected to the Santa Clara County Board of Supervisors in 2008 and re-elected in 2012 and 2016. He served four years as Board president. Prior to joining the Board, he served for eight years on the San Jose City Council, including two years as vice mayor. Also, for eight years Dave was a trustee for the East Side Union High School District.

He grew up in East San Jose as part of a family that has been active in civic, cultural, business and charitable activities for generations. Dave is married to Pattie, an East Side Union High School District Board Trustee, and is the father of four children. His strong local roots and love for Santa Clara County fuel his passion for public service.
His Past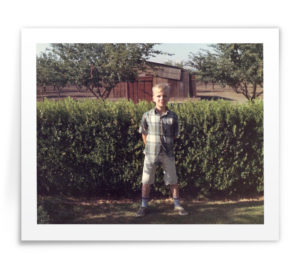 Dave spent most of his early years outdoors making friends, hiking through the foothills, playing sports, collecting baseball cards and working in orchards to save enough money to buy a truck someday. Even then, Dave thrived on challenges, learning to play the violin and building fences alongside his grandfather, an Italian immigrant.
He was captivated by how government works and wrote letters to his elected representatives when he had questions. As a very small boy, Dave had the profound experience of hearing President John F. Kennedy speak in Downtown San Jose and followed as the President rode in an open convertible along Market Street. At 11 years old, he went to the State Capitol in Sacramento with his father, Dominic Cortese, who served on the Santa Clara County Board of Supervisors and in the California State Assembly.
Dave graduated from Bellarmine College Preparatory then University of California Davis where he earned a Bachelor of Science Degree in Political Science. He earned his Juris Doctorate at Lincoln University Law School in San Jose. After college graduation, Dave worked in the banking industry, then took the reins of large extended family businesses that included agriculture, investment, and real estate. That strong financial background has proven valuable for Dave in public service. He helped manage a $120 million budget as a school board trustee, a $2.5 billion budget as vice mayor of San Jose and now an $8.1 billion budget as a Santa Clara County Supervisor.
His Present

On the Board of Supervisors, Cortese serves as Chair of the Housing, Land Use, Environment, and Transportation Committee and Vice Chair of the Children, Seniors, and Families Committee. As Board President, he has brought the community together to address and reduce homelessness, reform the County's jail custody operations, and fight for the rights of immigrants.
Increasing affordable housing and finding solutions to homelessness have been two of Dave's priorities while serving on the San Jose City Council and Santa Clara County Board of Supervisors. He initiated the creation of a countywide housing task force with representatives from business, labor, city and county offices, the local homeless population, and many experts on housing and homelessness. Ideas from the task force led to the successful Measure A being placed on the ballot. The group also brought forward recommendations for additional short-term, interim housing options.
Dave has long been a champion of protecting our environment, leading the County to recently commit to 100% renewable energy. He has supported efforts to develop renewable solar energy and helped form Silicon Valley Clean Energy (community choice energy) which includes 14 of 15 cities in the County. Other efforts include policies in zero waste, employee ridesharing, electric vehicle purchasing and infrastructure, green cleaning and sustainable landscaping.
Dave is a member and immediate past president of the regional Metropolitan Transportation Commission, serves on the Association of Bay Area Governments Executive Board, the National Association of Counties Transportation Steering Committee and the Santa Clara Valley Transportation Authority (VTA). His efforts have resulted in the widening of several highway ramps and interchanges and the improvement and expansion of public transportation.
His Future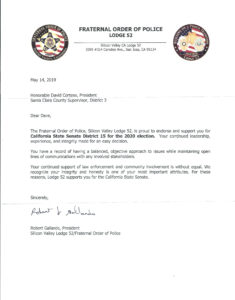 Dave's other priorities include public safety and our first responders, equal pay and a living wage for all who want it, education and healthcare for all children and support of our teachers and their classrooms. He is looking forward to the 2.4-mile extension of VTA light rail to San Jose's Eastridge Transit Center which is scheduled to begin next year.
As a California State Senator, Dave intends to continue and expand on the successful work he has done in Santa Clara County and apply as many solutions as possible statewide. That includes putting a stop to gender-based crime, fighting sexual assault, reducing domestic violence and ending human trafficking.
Dave believes in open government and campaign transparency. In the Senate he will support "clean money" bills in the State Legislature, many that he has already endorsed. Among other issues, the bills address voter fraud and ballot security measures. They provide transparency in political campaigns and allow for members of the public to monitor election results in Registrar of Voters offices.