Dave on the Issues, In his own words
Homelessness
Homelessness is a tremendous problem that we must face as a county, region and state. I co-chaired the 2016 Measure A Campaign which is a $950 million housing bond. We have 19 multi-unit housing projects funded and underway already, but we need to do more. We still have thousands of people unsheltered-living under overpasses, in creek corridors and on the streets. In the Senate District we'll need more money that is not restricted to only long-term housing but is also directed to short-term solutions including transitional housing.
Solutions to homelessness have been a priority while serving on the San Jose City Council and Santa Clara County Board of Supervisors. When I chaired the Board four of my first nine years in office, I initiated the creation of a housing task force with representatives from business, labor, city and county offices and many experts on housing and homelessness. The panel included members of the homeless community who helped make decisions and generate ideas which led to Measure A being placed on the ballot. The task force also brought forward recommendations for additional short-term, interim housing options. We shouldn't be waiting; people are dying and it's not acceptable.
Housing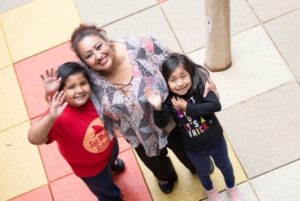 We have an overall housing crisis in Santa Clara County. Jobs are growing faster than our ability to build homes. There are bills in the California Legislature now to encourage local governments to meet the housing demand in appropriate locations, especially along transportation corridors. The lack of affordable housing also makes it harder for middle class families and young professionals to own homes. Our children and grandchildren often can't buy or rent a home in the community where they grew up.
Many join the 157,000 commuters from the Central Valley who drive back into the County to work. The shortage also leads to homelessness for many of our most vulnerable neighbors who become displaced from where they are living. Recognizing the need for affordable housing for people with disabilities, my fellow Santa Clara County Supervisors and I voted unanimously to invest $40 million over the next five to ten years in projects that set aside units for those with special needs. The newly opened Edwina Benner Plaza in the South Bay is a model that can be replicated around the State. Named after a former mayor, the beautiful complex offers housing for very low- and low-income families.
Public Safety
As President of the Santa Clara County Board of Supervisors four times, my leadership has been steadfast in terms of ensuring a fully funded Sheriff's Office as well as probation and rehabilitation systems. Everyone in our neighborhoods should be kept safe, regardless of race, creed, status or any other designation.
While chairing the Board of Supervisors I led the way to create the Anti-Human Trafficking Team in the Sheriff's Office. The Board and an appointed blue-ribbon task force put into place model reforms in our jails. I've also shone a light on and addressed non-violent crimes by protecting employees who don't get paid what they are owed by employers. I initiated the creation of the Office of Labor Standards Enforcement to monitor the County's Wage Theft and Living Wage Ordinances within county government but also labor and employment claims from private sector job sites a well. I'm also proud to have initiated the Gender and Ethnicity Pay Equity Ordinance that was badly needed.
Environment
Following meetings with former Vice President Al Gore and representatives from the Gore Foundation's Climate Reality Project in 2018 we agreed to create together a County Climate Coalition. Gore and I announced the effort at Governor Jerry Brown's Global Action Climate Summit in San Francisco last year. The Coalition calls on all counties in the United States to rally around combatting climate change.
When I was first elected to the San Jose City Council and later when I joined the Santa Clara County Board of Supervisors, there were no local environmental stewardship goals. While I was Vice Mayor the City adopted its Green Vision, which became a national model. My colleague Cindy Chavez and I led the way to establish a Council Environmental Committee in 2004. After being elected to the Board of Supervisors, I co-drafted, with my colleague Ken Yeager, the County's first environmental standards. We joined with several local city governments to create Silicon Valley Clean Energy with the goal that most households in the Santa Clara Valley will have access to 100% renewable energy. I'm proud to have expanded electric vehicle charging stations throughout the region and spearheaded the preservation of 287 suburban farm acres known as Martial-Cottle County Park which was funded through a state & county partnership.
Healthcare
The very mission of our County's health care system is to serve everyone, regardless of insurance coverage or ability to pay. This year my Board of Supervisors colleagues and I rescued two local hospitals and a clinic that were in bankruptcy. The facilities will now continue to provide critical health and emergency care to residents in Santa Clara County. The purchase ensures that the hospitals will remain open and the employees who want to remain at those facilities will keep their jobs.
Nationally, there are growing issues with so-called big-Pharma. Insurance premiums are exorbitant for most people, some local governments are buckling under the pressure of paying premiums on behalf of their employees. Those are issues I want to address in the State Senate. In our county we have led and innovated. We have ensured that every child has access to healthcare and have kept our clinics, hospital beds and emergency rooms open to everyone who needs medical assistance regardless of whether they're insured. These are the things we need to replicate at the state level.
Education
Advocacy for education and teachers has been a common thread throughout my life and career. I was a Trustee for San Jose's East Side Union High School District Board for eight years. While on the San Jose City Council I helped open numerous homework centers and provided other assistance to our public education system.
At the County level, I led the creation of School-Linked Services which is a $40 million a year program currently in about 200 schools. It puts counselors and coordinators who are linked to County services on campuses so we can intervene early before young students run into issues and problems that get out of control. I will continue to champion public schools in the State Senate. The vast majority of state funding goes to education and most property taxes collected are returned to cities, counties and school districts. I believe that public education, especially teacher's salaries have been underfunded. We have teachers in the first five years of their careers who are paid near the federally adjusted poverty level. Meanwhile we have skyrocketing home prices. The Santa Clara County Board of Supervisors is pursuing a teacher housing project on County land. Measure A funds will provide help to teachers, the disabled and others who are looking for down payment assistance or low-income housing.
Safety for Women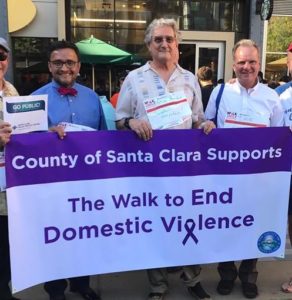 It's been clear to me for some time that prevention of gender-based violent crime is one of the most severely underfunded categories in our County mission. I recently co-chaired a Santa Clara County Board Committee that created a $5 million ongoing annual reserve for fighting sexual assault, domestic violence and human trafficking.
We are now more able to fight against gender-based violent crimes and improve services representing law enforcement, investigators and prosecutors, medical professionals, behavioral health, education, survivor services and prevention programs. Supervisor Cindy Chavez and I were able get a backlog of untested rape kits reduced. The board developed and implemented policies to ensure that every rape kit in Santa Clara County is tested within 30 days.
Transportation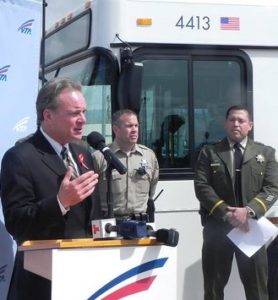 Thanks to the taxpayers of Silicon Valley we have been able to build many of our own transportation projects without depending on state and federal funds which are oftentimes delayed or non-existent. BART is being extended to San Jose and the VTA light rail will soon include a 2.4-mile extension to San Jose's Eastridge Transportation Center.
Transportation infrastructure is being improved, as seen on Highway 101 at the Brokaw Road exit, the 280/880/17 interchange at Stevens Creek Boulevard, the widening of Highway 101 and the new Yerba Buena Avenue and Capitol Expressway interchanges. Those projects are the result of hard work and all of us must continue to lobby for a new federal transportation bill. The nation's infrastructure is crumbling while we wait for the White House and federal government to do something about it. I have served for 18 years on MTC, the Metropolitan Transportation Commission and was chairperson from 2015-2017. It is the transportation planning agency for our nine-county region. The money that comes to Santa Clara County and the Bay Area through state and federal funds passes through the MTC. Along with some of my colleagues we've been able to streamline transportation systems and reduce Green House Gas emissions under the mandates of State Senate Bill 375. Under my leadership, the Association of Bay Area Governments was merged with MTC to link transportation and housing planning in the region for the first time and to reduce the duplication of work.
Campaign Transparency and Open Government
On the San Jose City Council and as Vice Mayor I was instrumental in creating and enforcing a Sunshine Ordinance which became a national model for other governments to follow. When I joined the Board of Supervisors there was no similar law. With my fellow Supervisors we initiated an ordinance, started making our daily calendars available, ensured that our meeting agendas were published and accessible well in advance, plus a number of other provisions.
We detailed what was required for elected officials before money was given to special causes, sponsorships and favored projects. Now, such expenditures must be added to public agendas which was not always done prior to the ordinance. There are currently "clean money" bills in the State Legislature and I have endorsed them. They provide transparency in political campaigns and allow for legitimate watch dog groups and members of the public to monitor election results in Registrar of Voters offices. Among other issues, the bills address voter fraud and ballot security measures.